The Secret Revealed: How CBD Flowers Keep THC Levels Low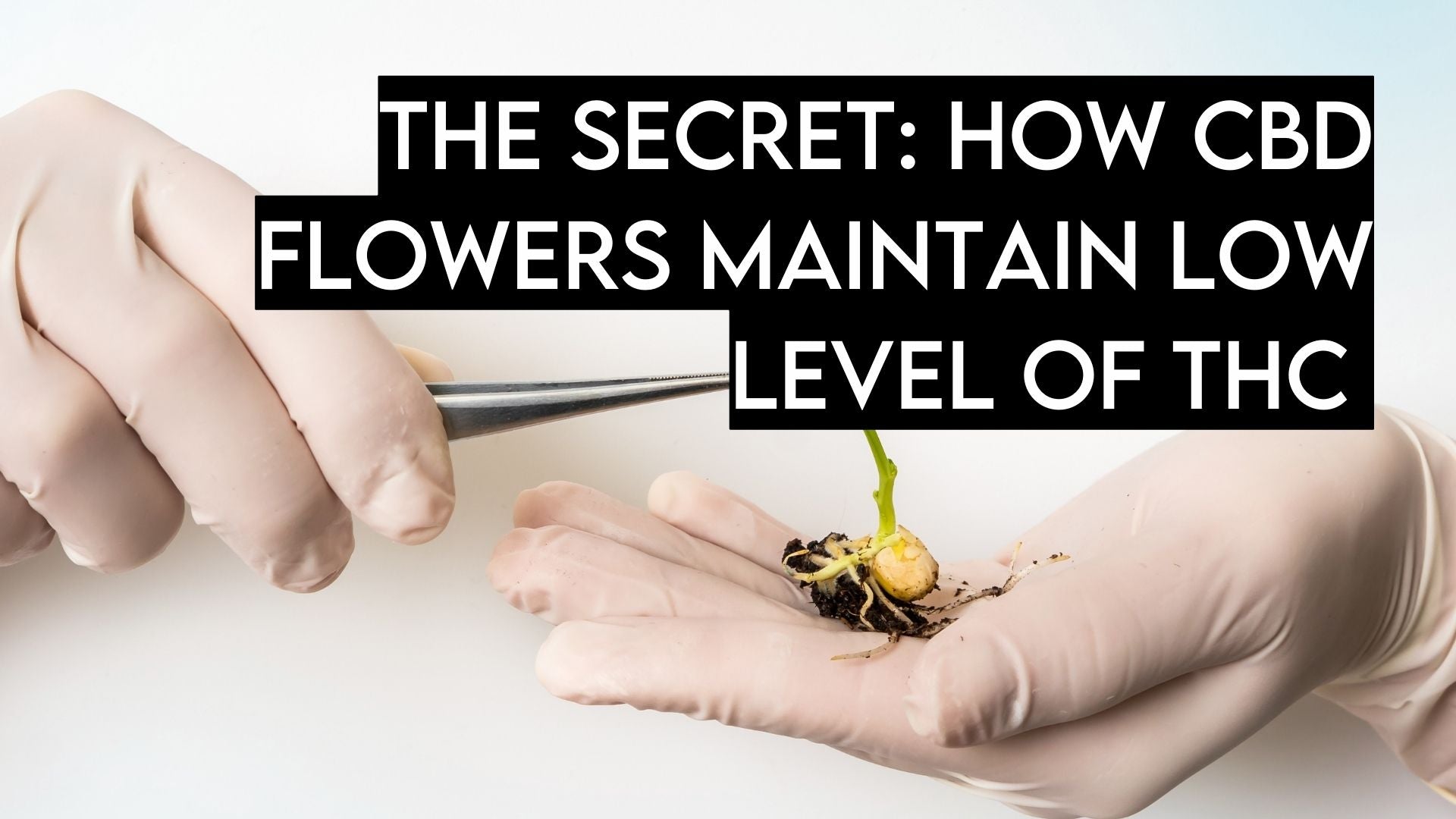 Hey there, CBD enthusiasts! Did you know that CBD flowers have a secret that keeps them popular among users? It's all about their ability to maintain low levels of THC. In this blog post, we'll uncover the mystery behind this fascinating aspect of CBD flowers. So, let's dive right in!
What are CBD Flowers? 
CBD flowers, also known as hemp buds or CBD-rich hemp flowers, are the buds of the hemp plant that are carefully cultivated for their high CBD content and minimal THC levels. These flowers provide the benefits of CBD without the psychoactive effects associated with THC.
Understanding THC and CBD
To grasp how CBD flowers maintain low levels of THC, it's important to understand the difference between THC and CBD. THC, or tetrahydrocannabinol, is the compound responsible for the "high" sensation associated with marijuana. On the other hand, CBD, or cannabidiol, is a non-intoxicating compound known for its potential therapeutic effects.
The Role of Genetics 
One of the secrets behind CBD flowers' low THC levels lies in their genetic makeup. Hemp plants used for CBD production are specifically bred to have high levels of CBD and minimal THC. By selecting strains with lower THC content, growers can ensure that the resulting flowers will comply with legal requirements and provide a safe and enjoyable experience for users.
The Importance of Cultivation Practices
Another key factor in maintaining low THC levels is the cultivation practices employed by CBD flower producers. These include careful monitoring of the plants' growth, proper nutrition, and the absence of certain stress factors that can trigger higher THC production. By providing optimal growing conditions, growers can encourage higher CBD levels while keeping THC levels in check.
Harvesting and Processing Techniques
The timing of harvest and the processing techniques used also play a significant role in preserving low THC levels in CBD flowers. Harvesting at the right time ensures that the THC content remains at its lowest point while CBD levels are at their peak. Additionally, efficient processing methods, such as gentle drying and appropriate storage, help to maintain the integrity of the flower and prevent any THC increase.
Lab Testing and Quality Assurance
To ensure the consistency and safety of CBD flowers, reputable producers conduct rigorous lab testing. These tests analyze the cannabinoid profile of the flowers, including THC and CBD levels, to verify compliance with legal limits. By providing transparent lab reports, trustworthy brands give consumers the confidence they need to make informed purchasing decisions.
The Legal Landscape 
Just a quick heads-up: when it comes to hemp, the legal THC level is a max of 0.2% in the UK. That means you can enjoy CBD flowers without any worries. So, whether you're looking to unwind after a long day or simply want to experience the potential benefits of CBD, our CBD flowers have got you covered. With a wide variety of strains to choose from, you can find the perfect CBD flower that suits your taste and preferences. So grab your favorite strain and let the good vibes roll!


So, there you have it, folks—the secret behind how CBD flowers maintain low levels of THC. It's all about the genetics, cultivation practices, harvesting techniques, and quality assurance measures implemented by dedicated producers. With this knowledge in hand, you can confidently explore the world of CBD flowers, knowing that you're getting